2013 Passport® Stamp Set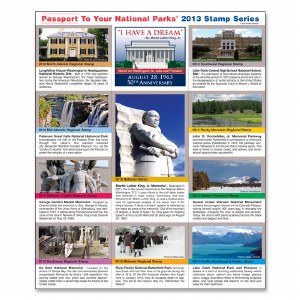 2013 Passport® Stamp Set
Item#: 392013
$5.95
Description
Calling all Passport To Your National Parks® Collectors! Add the the 2013 stamp set to your Passport To Your National Parks® Classic Edition, Collector's Edition or Explorer books. The stamp set includes one national and nine regional stamps with information and images of each highlighted park. In 2013 each of the featured parks enjoyed a special event or anniversary and the photos are selected from submissions by National Park Service employees and participants in the Volunteers-In-Parks programs to Eastern National's annual photo contest.
2013 Featured Parks & Historic Sites:
National Stamp:
Martin Luther King, Jr. Memorial
North Atlantic Regional Stamp:
Longfellow House- Washington's Headquarters National Historic Site
Mid-Atlantic Regional Stamp:
Paterson Great Falls National Historic Park
National Capital Regional Stamp:
George Gordon Meade Memorial
Southeast Regional Stamp:
De Soto National Memorial
Midwest Regional Stamp:
River Raisin National Battlefield Park
Pacific Northwest & Alaska Stamp:
Lake Clark National Park and Preserve
Western Regional Stamp:
Sunset Crater Volcano National Monument
Rocky Mountain Regional Stamp:
John D. Rockefeller, Jr. Memorial Parkway
Southwest Regional Stamp:
Little Rock Central High School National Historic Site
BONUS STAMP:
March on Washington for Jobs and Freedom 50th Anniversary Stamp    
With over 20 years of stamp sets to choose from, you can begin to build your collection! Look for more in the
Passport Store
!
Product Details
Self-Adhesive
Proudly printed in the USA
Individual stamps not sold separately
Reviews
Customer Reviews
Average rating:
---
Family tradition
I started this with my children when the program was in it's infancy and now continue with the grandchildren so they will know the diverse history and beauty of our nation. I receive the stamps almost immediately after ordering so a new adventure for them to research.
— MaryTeresa Gibbons
---
National Park Stamps
All products were very helpful with the execution of my National Park Passport at the sites I planned to visit.
— David Kluck
---
3 of 3 people found this review useful:
Beautiful Stamps for Beautiful Memories
I recently purchased several years' worth of these wonderful stamps. I am leaving the same 5-star review for all the sets I purchased because every single one of them is deserving of the highest grade possible. It was a joy to sit down, relax with a cup of coffee, and dedicate many pleasant hours putting our family's Passport Explorer together. Passport stamps are beautiful, each depicting a scene from one of many special locations in this great land of ours. Flipping through the pages, as I found the right place for each stamp, brought back so many happy memories! The Passport Stamps are also an excellent way to learn about our culture, our history, and our geography. These sets, along with the Passport itself, are great souvenirs and worthwhile entertainment for young and old alike. Many thanks to the Park Service for this awesome product!
— Miriam Delgado