Passport To Your National Parks® Classic Edition and 2023 Stamp Set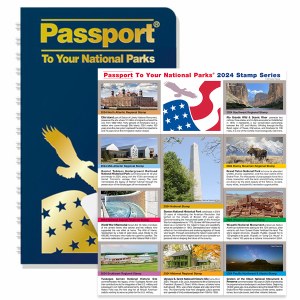 Passport To Your National Parks® Classic Edition and 2023 Stamp Set
Item#: 353250
Description
Jump start your adventure to the nation's parks and historic sites with the Passport To Your National Parks® and the 2023 commemorative stamp set! Learn about and explore all of our national park sites with the Passport To Your National Parks® which includes maps that are color-coded for specific regions in the country, pre-visit information, illustrations and photographs, as well as designated areas throughout the book to collect park cancellations and the annually-released stamp set!
2023 Featured Parks & Historic Sites:
National Stamp: Manhattan Project National Historical Park

North Atlantic Regional Stamp: Minute Man National Historical Park

Mid-Atlantic Regional Stamp: First State National Historical Park

National Capital Regional Stamp: Mary McLeod Bethune Council House National Historic Site

Southeast Regional Stamp: Kennesaw Mountain National Battlefield Park

Midwest Regional Stamp: Charles Young Buffalo Soldiers National Monument

Pacific Northwest and Alaska Regional Stamp: Olympic National Park
Western Regional Stamp: Pipe Spring National Monument
Rocky Mountain Regional Stamp: Bryce Canyon National Park 
Southwest Regional Stamp: President William Jefferson Clinton Birthplace Home National Historic Site
Begin your collection with the starter set that prepares you for your next trip while preserving your memories of past park adventures! Look for more collectibles in the
Passport Store
!
Product Details
Passport To Your National Parks: Classic Edition

2023 Stamp Series
Proudly printed in the USA
*No additional discounts apply.
Reviews
Customer Reviews
Average rating:
---
0 of 1 people found this review useful:
Parks
Good site
— Sue Wenger
---
Very educational
I have had one of these for quite a few years when I decided to purchase them for my older grandchildren. They are getting ready for a two week RV tour of the western USA and are planning on visiting many National Parks. They are so excited about the Passport Books and can't wait to start using them. My grandson is already researching the different parks and learning about them. Great way for them to learn about our wonderful country.
— Linda DeBenedictis
---
Wonderful Photos
I really enjoyed getting these to help fill out my parks passport with lovely photos!
— Evan Lewis
---
Nice pairing Passport Book & Stickers
I bought four of these sets for gifts for my friends. This year we begin our travels to National Parks together and we hope for many years to come. Never knew about these books and wish I had known long ago. These will be fun to fill up and then buy others. Well made and quality.
— Pamela Hughes
---
Passports
Ordered 4 to take on our Vacation this year. Can not wait for my kids and grandchildren to get there first cancellation stamps.. Very informational inside. Bought these because they can use them forever and they are of good quality should last them a lifetime..
— Stacy Beer
---
2 of 2 people found this review useful:
Great momento
The Passport to the National Parks is a great way to remember all your trips to the National Parks. I got my first cancellations just a few days ago, and I look forward to getting many, many more in a few weeks when I visit our nation's capital! The passport is well designed and will hold up for years to come!
— Robin Harris