US Marine Corps Pewter Lapel Pin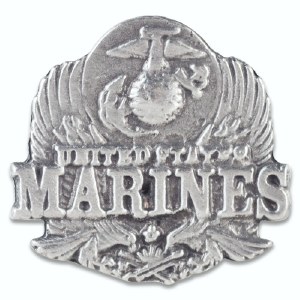 US Marine Corps Pewter Lapel Pin
Item#: 353548
$5.95
Description
Founded in Philadelphia a mere nine months before the United States declared indpendence, the United States Marine Corps has been an important force since the country's earliest days. Serving in nearly every conflict in US history, the Marines have become particularly well known for the aptitude with amphibious warfare, as exhibited during the infamous Pacific Theatre during WWII.
Whether you're a Marine, have a loved one who served, or are simply proud of the brave men and women who fight for our country, you'll be able to keep ''the few, the proud'' close to your heart with this pewter lapel pin.

Product Details

Approximately .75'' x .75''
Butterfly style closure
Fine Pewter
Made in the USA
Reviews
Customer Reviews
This product has not yet been reviewed.