Green Glasshouse Ornament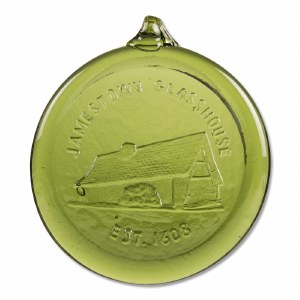 Green Glasshouse Ornament
Item#: 91151
$8.95
Description
The historic Jamestown Glasshouse was established in 1608 by the Virginia Company of London due to the New World's abundance of materials to make glass. The original point of the glasshouse was to make money for the company, but today it is seen as an important part of history representing colonial culture and craftsmanship.

Our Green Glasshouse Ornament serves as a reminder of the hardworking beginnings of this country and give a colonial flare to your holiday decorations.
All of the Jamestown Glasshouse produced pieces are hand-blown and crafted by local artisans. Since every piece is hand blown and crafted there will be slight irregularities and therefore each item will be unique.

Product Details

Dimensions: Approximately 3.5'' diameter
All profits purchase go to the National Parks Service to support parks
Reviews
Customer Reviews
This product has not yet been reviewed.