2014 Passport ® Stamp Set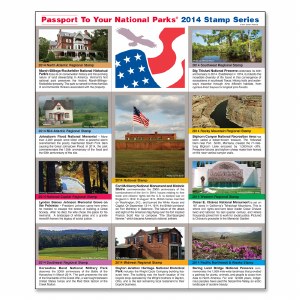 2014 Passport ® Stamp Set
Item#: 392014
$5.95
Description
Calling all Passport To Your National Parks® Collectors! Add the the 2014 stamp set to your Passport To Your National Parks® Classic Edition, Collector's Edition or Explorer books. The stamp set includes one national and nine regional stamps with information and images of each highlighted park. In 2014 each of the featured parks enjoyed a special event or anniversary and the photos are selected from submissions by National Park Service employees and participants in the Volunteers-In-Parks programs to Eastern National's annual photo contest.
2014 Featured Parks & Historic Sites:
National Stamp: Fort McHenry National Monument and Historic Shrine

North Atlantic Regional Stamp: Marsh-Billings-Rockefeller National Historical Park

Mid-Atlantic Regional Stamp: Johnstown Flood National Memorial

National Capital Regional Stamp: Lyndon Baines Johnson Memorial Grove on the Potomac

Southeast Regional Stamp: Horseshoe Bend National Military Park

Midwest Regional Stamp: Dayton Aviation Heritage National Historical Park

Pacific Northwest & Alaska Stamp: Bering Land Bridge National Preserve

Western Regional Stamp: César E. Chávez National Monument

Rocky Mountain Regional Stamp: Bighorn Canyon National Recreation Area

Southwest Regional Stamp: Big Thicket National Preserve
With over 20 years of stamp sets to choose from, you can begin to build your collection! Look for more in the
Passport Store
!
Product Details
Self-Adhesive
Proudly printed in the USA
Individual stamps not sold separately
Reviews
Customer Reviews
Average rating:
---
Our great treasure
I have visited many of our great national parks, but seldom took time to visit the station at most of the parks, thus I have missed out on the collection of the many mementos of our parks. I happened to be at Ft Matanzas, Fl when a ranger took the time to explain the stamps to me. I immediately felt sadness and gladness when I realized that I could begin again as I visit, but now have a added reason to be at the parks. I now look forward to collecting as many of the stamps as I can and have them cancelled at the ranger stations.
— E. J. Smith
---
Stamp Collector
I purchased my first Passport Book about 10 months ago before going to Alaska for the first time - so glad that I did this - very exciting to visit the national parks and get my book stamped - since I have been back I have been sending for the stamp sets to add to my passport book - great way to learn about the national parks in the US.
— Donna Covell