Arlington National Cemetery Fallen Soldier Pin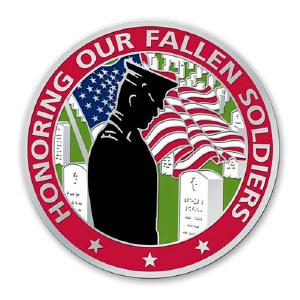 Arlington National Cemetery Fallen Soldier Pin
Item#: 362833
$6.95
Description
Arlington National Cemetery is the final resting place for veterans and casualties of war since the Civil War.  Over 400,00 people have been interred on the 624 acre property that was once the home of General Robert E. Lee.
The Tomb of the Unknowns is a monument dedicated to members of the armed forces who died without having their remains identified.  It is guarded 24 hours a day by the Sentinels who are members of the U.S. Army's 3rd Infantry Regiment.
Product Details
Visit Arlington National Cemetery, the United States military cemetery in Arlington County, Virginia, across the Potomac River from Washington, D.C.
Collectible pin measures 1 1/8'' in diameter
Reviews
Customer Reviews
Average rating:
---
ANC Fallen Soldier Pin
As a Veteran I hold products to the highest standard when it comes to our country and all that have served her. I am not above leaving a scathing review when products are substandard. That is not the case here. I am happy to report that this is a high quality piece and is well made and respectfully done. I will proudly wear this to commemorate my brothers and sisters.
— Shawn Rojas
---
Beautiful pin
I absolutely love this pin. I bought them for me and my sisters after our father was interred.
— Ira Hostetter
---
Honor
A very beautiful piece.
— Mathias R Velasco
---
Great piece.
I am an collector of pins and this is one of my favorites.
— Michael Grier