Rosa Sat Magnet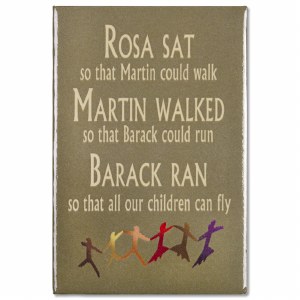 Rosa Sat Magnet
Item#: 369113
$5.95
Description
Celebrate the evolution of Civil Rights with the magnet that highlights some of the major milestones in the movement. Rosa Parks, Martin Luther King, Jr., and President Barack Obama all contributed in meaningful ways and showed that there is more than one way to effect change. Display this magnet in your home or office as reminder of the achievements of the past and the possibilities that the future holds.
Product Details
Approx. 3 1/8'' x 2 1/16''
Reviews
Customer Reviews
This product has not yet been reviewed.