Danger Radiation Sign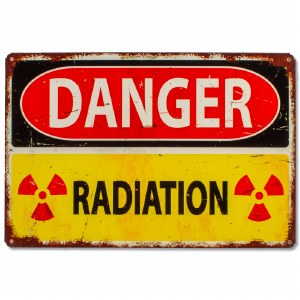 Danger Radiation Sign
Item#: 375065
$29.95
Description
The lasting effects of radiation is not uncommon to the modern world. After World War II, the strength of nuclear weapons was obvious and terrifying. The Minuteman II missile held 66 times the amount of power than the atomic bomb that the US dropped on Hiroshima, Japan. Today, a replica of the Minuteman II missile stands in the Delta-09 silo as a somber reminder of the lengths humans would go for protection—or destruction.
This Danger Radiation Sign is a striking conversation-starter. Hang this sign in your home as an antique decoration and a reminder of the politically tense period of the Cold War.

Product Details

Measures 17.75 x 11.5 inches
Metal sign
Reviews
Customer Reviews
This product has not yet been reviewed.