Arches National Park Pin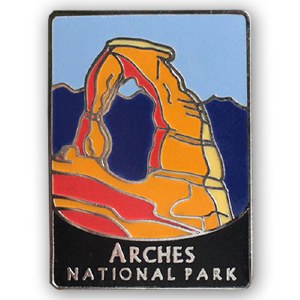 Arches National Park Pin
Item#: 377572
$6.95
Description
Red Rock Recreation. Dazzling Desert Diversion. Or just call it by its actual name—Arches—which is quite apt for this national park located in southeast Utah. With more than 2,000 natural stone arches in a desert environment, the park is a world of red rock waiting to be explored, and arches are not the only attraction. Balanced Rock is a sight to behold: a massive, 3,577-ton rock naturally balanced on top of another rock formation. These and other fascinating formations make this park a one-of-a-kind locale.
Featuring an illustration of one of the arches in the park, this pin may just whet your appetite to see these natural wonders and have you packing your bags to trek out there!
Product Details
Dimensions: 3/4'' W x 1 1/4'' H
Reviews
Customer Reviews
Average rating:
---
Another for the collection
We missed the gift shop hours when we showed up at Arches, but adding this pin to our collection was important! Thank you for offering this online, high quality as is typical. Thank you!
— Kathline Wright
---
Nice pin art!
Sturdy pin with great depiction of Arches!
— Moira O'Toole
---
Just like the photos
What else could you put on pin for Arches? Maybe the Landscape Arch but this one seems to be what people think of when you think of this NP.
— Cathy Miller-Temme