Haleakala National Park Pin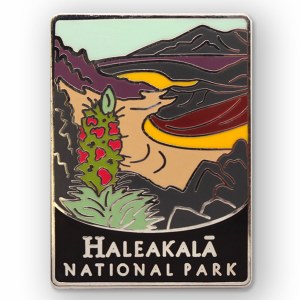 Haleakala National Park Pin
Item#: 377580
$6.95
Description
Cabins accessible only by a minimum hike of 3.7 miles, remote locations, a wide range of weather conditions due to a varied geography, and a vast wilderness area consisting of nearly 25,000 acres make Haleakala National Park a place of spectacular outdoor challenges. From coastal shores to volcanic peaks to humid forests, this Hawaii park features a range of outdoor environments that is seldom found elsewhere.
If you've mastered any of the challenges at this park, it's only natural to want a trophy of your trek. This pin should do the trick!
Product Details
Dimensions: 3/4'' W x 1 1/4'' H
Reviews
Customer Reviews
Average rating:
---
Great little pins
I am so excited to have found these Traveller series pins. They are an affordable, packable souvenir. I made a quilt out of a National Parks map and I put the pins at each location we visit. So far, I have 11 pins. It was nice to be able to purchase the pins online for parks we had visited previously. I plan to pick up future pins when we visit each additional park.
I would give it 5 stars, but I think the Haleakala pin should have the plant that is all around at Haleakala that only grows there. It is more representative than this drawing is. But, I bought it because I am collecting them from the National Parks I visit.
— Jennifer Ruggles