Everglades National Park Pin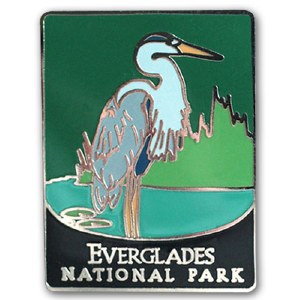 Everglades National Park Pin
Item#: 377576
$6.95
Description
What do crocodiles, cypress trees and a Cold War-era missile site have in common? You can see them all at Everglades National Park near Miami, Florida. Consisting of 1.5 million acres, the park has more than enough to keep visitors occupied: swamp exploration; observation of a variety of flora, fauna and wildlife, including bird watching; hiking and camping; boat tours; and a whole lot more.
Among the wildlife, 16 species of wading birds make their appearance in the park—and one makes its appearance on this pin! It's a scene you'll likely see if you visit the park: a bird wading in the water with plenty of green.
Product Details
Dimensions: 3/4'' W x 1 1/4'' H
Reviews
Customer Reviews
This product has not yet been reviewed.