Wrangell St.-Elias National Park Pin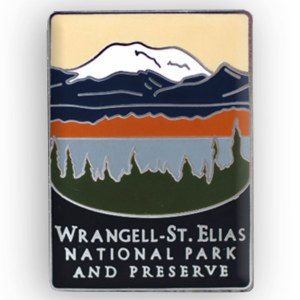 Wrangell St.-Elias National Park Pin
Item#: 377599
$6.95
Description
About six times larger than Yellowstone National Park, Wrangell St.-Elias National Park and Preserve was established in 1980 for a number of reasons, including to maintain the natural beauty of the region and to provide access to a diversity of wilderness recreation. Hike one or more of the trails and even go off the beaten path for some backcountry adventures. Head out to a glacier and see one of these icy behemoths for yourself. You can even take a ride in an airplane and get a breathtaking aerial view of this massive wilderness area.
Whether you want a memento of your excursion to this park or just want to add a pin to your collection, we've got you covered with this finely illustrated piece.
Product Details
Dimensions: 3/4'' W x 1 1/4'' H
Reviews
Customer Reviews
Average rating:
---
Small rendering of a huge wilderness, NICE
I'm glad there isn't that little plane in the sky on the design, even though it's a great way to see the grandeur.
Well done!
— Cathy Miller-Temme