Saguaro National Park Pin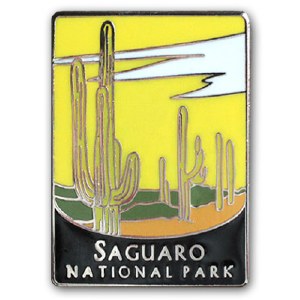 Saguaro National Park Pin
Item#: 377593
$6.95
Description
It towers above you with many green arms, and covering its surface are many spines. No, it's not a monster or alien; it's a saguaro—a giant, treelike cactus, and it's protected at Saguaro National Park located near Tucson, Arizona. Here you can see a whole forest of them, including one with 30 arms!
Designated a national park in 1994, Saguaro National Park protects not only the saguaro but also a variety of natural, cultural and historic resources. Help support this mission by purchasing this item—and get a handsome pin at the same time!
Product Details
Dimensions: 3/4'' W x 1 1/4'' H
Reviews
Customer Reviews
This product has not yet been reviewed.