Junior Ranger Guess That Park Trivia Card Game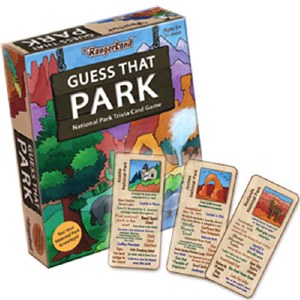 Junior Ranger Guess That Park Trivia Card Game
Item#: 379348
$12.95
Description
Hey kids, did you know that the National Park Service has this awesome program that gives you the chance to become a Junior Ranger? If you visit just about any of America's national parks and participate in a series of fun, educational activities, you can earn a badge and certificate declaring you an official Junior Ranger, after which you will take an oath to explore, learn, and protect our country's parks.

Put your Junior Ranger knowledge to the test with this fun and challenging national park trivia card game! Intended for children ages eight and up, all you will need to enjoy this game is yourself, a friend, and enough time to partake in some friendly competition.

Product details

Trivia card game
2+ players
Ages 8+
Made in the USA
Reviews
Customer Reviews
This product has not yet been reviewed.