Yellowstone National Park Walking Stick Medallion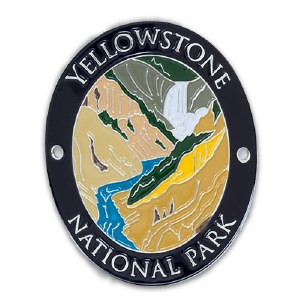 Yellowstone National Park Walking Stick Medallion
Item#: 383503
$6.99
Description
Yellowstone was America's and indeed the world's first national park. Famous worldwide for its geothermal features and impressive natural beauty, Yellowstone National Park is visited by millions of people every year.
Whether you're planning a trip or commemorating one you just took, this Walking Stick Medallion is awesome! Stick it on your hiking or walking stick and let the adventure begin. Featuring an interpretive and colorful image of the Grand Canyon of Yellowstone, this medallion also looks great in a collection.
Product Details
Approx 1.25'' x 1.5''
Nails for easy mounting included
Reviews
Customer Reviews
Average rating:
---
Great detail and color
Great medallion, however, fitting it to my staff the enamel broke off. Doubt it was manufacturer error. Just heavy handed on my part.
— Dave Shaffer
---
Yellowstone hiking stick medallion
Great color on this medalliion! I don't put them on a hiking stick, but have a wall area in our 'spa room' where we put all the medallions from every parked visited. They remind us of what we remember as 'special' about each park!
— Lois Little
---
Hiking stick medallion
Great addition to my walking stick!
— Randall Riesche
---
Nice!
Very nice medallion. Good size, great detail and very nice overall.
— Staci Wood
---
Wonderful Medallion
I purchased a walking stick while in Denali this summer and am now in the process of putting on medallions from the parks I've been to recently. These are nice, sturdy pieces to put on my stick.
— Penny Gorges