Yosemite National Park Walking Stick Medallion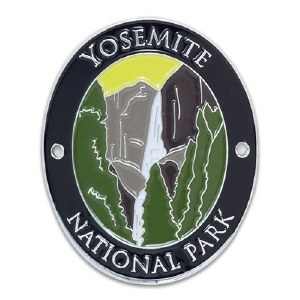 Yosemite National Park Walking Stick Medallion
Item#: 383507
$6.95
Description
This medallion's image is a striking representation of the Vernal Falls in Yosemite National Park. Originally called Yanopah or little cloud, Vernal Falls is a major attraction at the park and its refreshing mists are sought out by hikers.
Dark green, olive, and brown colors mark the natural landscape, while a green-yellow represents the sky and a shade of blue with hints of pink represent the water of the falls. This is a truly unique medallion sure to look great on your walking stick or in your collection!
Product Details
Approx 1.25'' x 1.5''
Nails for easy mounting included
Reviews
Customer Reviews
Average rating:
---
Yosemite hiking stick medallion
Great color on this medalliion! I don't put them on a hiking stick, but have a wall area in our 'spa room' where we put all the medallions from every parked visited. They remind us of what we remember as 'special' about each park!
— Lois Little
---
Hiking stick medallion
Great addition to my walking stick!
— Randall Riesche
---
Great
Love these medallions. The colors are great and they really remind you of the place they represent.
— Virginia Renslow
---
1 of 1 people found this review useful:
Nice!
Very nice medallion. Good size, great detail and very nice overall.
— Staci Wood