Another Such Victory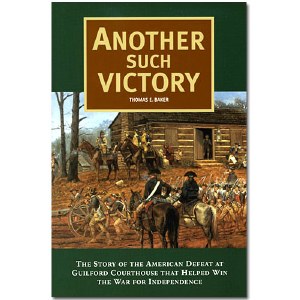 Another Such Victory
Item#: 20222
$6.95
Description
Filled with illustrations and maps helping guide you through one of the critical battles that cost Britain the war, Thomas Baker's "Another Such Victory" gives a definitive look at the Battle for Guilford Courthouse. Here in March 1781, war seasoned British soldiers under General Cornwallis engaged in a two front war and forced American patriot Nathanael Greene's Continental Army to retreat into the fields and forests.

A thorough account of the clash including military stratagems employed, this detailed narrative of the Revolutionary War Collection celebrates the sacrifices Colonials made for the sake of Independence.

Product Details

Visit Guilford Courthouse to see the military stances of the Rev War
Historical nonfiction by Eastern National exclusively for eParks
Soft cover book approximately 9'' x 6''; 95 pages
ISBN: 1-59091-039-7

Reviews
Customer Reviews
This product has not yet been reviewed.