Redwood National and State Parks Walking Stick Medallion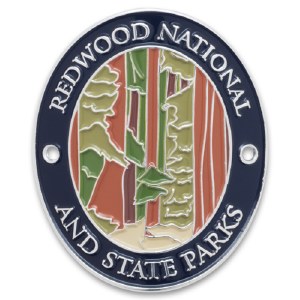 Redwood National and State Parks Walking Stick Medallion
Item#: 385434
$6.99
Description
Redwood National and State Parks combines the Redwood National Park with three bordering California redwood state parks. Together, these parks present an old-growth rainforest that protects nearly 45 percent of all the remaining California Coastal redwoods.
The massive trunks of the California redwoods are on display in burnt umber on this Hiking Stick Medallion, as the foliage of smaller ferns and less towering trees decorate the rest of the scene. In a black border surrounding the image brilliant silver lettering spells out the name of the park.
For the California native or lover of the great outdoors, this medallion is the perfect decoration for their hiking or walking stick. Show you love for California's Redwoods with this Special Edition Walking Stick Medallion!
Product Details
1 1/2'' x 1 1/4''
Includes nails for easy mounting
Reviews
Customer Reviews
Average rating:
---
Excellent!
Nice design, and easy to apply.
— John Timm
---
1 of 1 people found this review useful:
Perfect
Exactly as described. Easy enough to form and mount to staff.
— Michael P. Lapham
---
Nice!
Very nice medallion. Good size, great detail and very nice overall.
— Staci Wood