Hawai'i Volcanoes National Park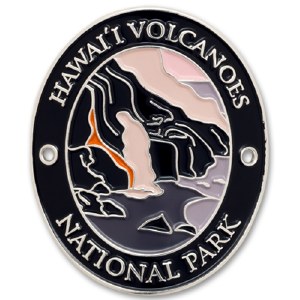 Hawai'i Volcanoes National Park
Item#: 385430
$6.95
Description
Encompassing two active volcanoes, the Hawai'i Volcanoes National Park includes a lot of mosts. The park includes the world's most active volcano Kilauea, and the world's most massive shield volcano, Mauna Loa. The park is a valuable resource for scientists studying volcanism.
The beautiful pink pastel artwork on this Special Edition Walking Stick Medallion shows bright orange lava flowing into a dark grey sea, depicting the method that formed the Hawaiian Islands. The image is contrasted with the black colored Pāhoehoe, meaning smooth, unbroken lava, and the background of pink and purple hues. This unique color scheme means this medallion will stand out on your hiking stick.
Whether you've visited Hawai'i Volcanoes National Park, or it's on your list, this Special Edition Hiking Stick Medallion is a beautiful addition to your hiking stick and a great reminder of the vast environments the National Park Service protects and preserves!
Product Details
1 1/2'' x 1 1/4''
Includes nails for easy mounting
Reviews
Customer Reviews
This product has not yet been reviewed.