Olympic National Park Walking Stick Medallion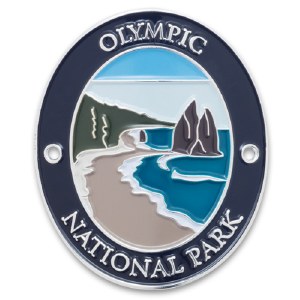 Olympic National Park Walking Stick Medallion
Item#: 385433
$6.99
Description
Almost all of Olympic National Park's amazing coastline, forests, meadowlands and other varied landscapes are designated as wilderness area, protecting them permanently from development.
The pacific coastal landscape of Olympic National Park is presented on this special edition Walking Stick Medallion. A sea stack occupies the right of the image while the turquoise ocean laps against tan sand. To the left, terminating at the horizon, the green of Olympics Sub-alpine forests are visible.
Celebrate the amazing and unique wonder of Olympic National Park, and show the world you support America's national parks with this Special Edition Medallion. This Special Edition Medallion also makes a great gift for the hiker or backpacker in your life.
Product Details
1 1/2'' x 1 1/4''
Includes nails for easy mounting
Reviews
Customer Reviews
This product has not yet been reviewed.