The Black Canyons Gunnison River Walking Stick Medallion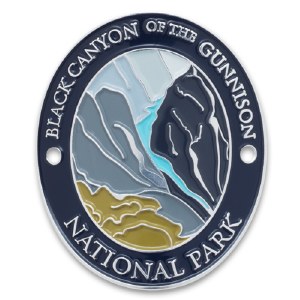 The Black Canyons Gunnison River Walking Stick Medallion
Item#: 385427
$6.99
Description
The Gunnison River, with the help of various geologic forces over millions of years, formed the unique Black Canyon. The Black Canyon is so named because of its steepness and narrowness, which leads to a dramatic lack of sunlight. Some sections of the canyon only receive a half hour of sunlight a day.
A view looking down towards The Gunnison from the side of the Black Canyon's sheer cliff walls is presented on this Walking Stick Medallion. The bright blue river contrasts dramatically with tie grey and black of the canyon and the dull green of the regions flora.
Hiking and camping are popular activities in the Black Canyon of the Gunnison National Park, so if you've hiked through this unique landscape make sure to reward yourself with this medallion. Better yet, gift it to a fellow adventurer and challenge them to visit the Black Canyon!
Product Details
1 1/2'' x 1 1/4''
Includes nails for easy mounting
Reviews
Customer Reviews
This product has not yet been reviewed.