Crater Lake National Park Walking Stick Medallion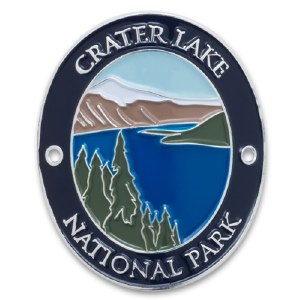 Crater Lake National Park Walking Stick Medallion
Item#: 385429
Description
Crater Lake was created very suddenly, as the stratovolcano Mount Mazama erupted and collapsed in on itself. Over the next seven centuries, water from rain and snow melt filled the crater to create the pristine lake that tens of thousands enjoy every year.
A view from the northern side of the crater is presented on this Special Edition Hiking Stick Medallion. The rim of the crater is presented in a tan color, with the snow capped hills presented in an off white. Wizard Island is shown on the right, leading down to the deep indigo lake.
Whether you've gotten to hike along the rim of this once massive stratovolcano, or it's on your bucket list, this special edition walking stick medallion is an excellent addition to your collection. It looks great on your walking stick or in a collection.
Product Details
1 1/2'' x 1 1/4''
Includes nails for easy mounting
Reviews
Customer Reviews
This product has not yet been reviewed.