Theodore Roosevelt National Park Walking Stick Medallion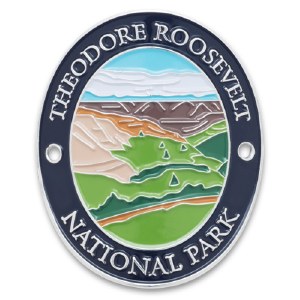 Theodore Roosevelt National Park Walking Stick Medallion
Item#: 385437
$6.99
Description
After Theodore Roosevelt's wife and mother died only hours apart, he fell into a deep depression. It was his experiences between 1883 and 1884 on the land that later became Theodore Roosevelt National Park that renewed his spirit and influenced his belief in the benefits of the strenuous life.
This special edition walking stick medallion shows the varied landscapes of grasslands and arid badlands contained in the park. These lands provide excellent back country hiking and camping opportunities for visitors.
Whether you're a fan of the Bull Moose president, or just his namesake park, this Walking Stick medallion gives you bragging rights about your travels and makes a great gift for other adventurers in your life. Collect medallions for all the parks you've trekked through!
Product Details
1 1/2'' x 1 1/4''
Includes nails for easy mounting
Reviews
Customer Reviews
This product has not yet been reviewed.