Canyonlands National Park Walking Stick Medallion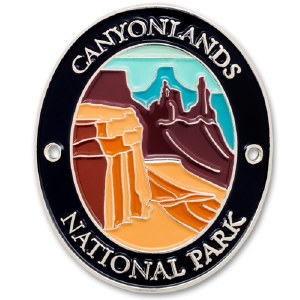 Canyonlands National Park Walking Stick Medallion
Item#: 385428
$6.95
Description
Divided into four distinctive districts, each with their own charm and geologic landmarks, Canyonlands National Park is an incredibly popular destination for hikers, backpackers, ATV riding, and mountain biking.
The major geologic features of the park are on display in this medallion. Colorful canyons and hoodoos, formed by millions of years of erosionary forces occupy the middle and foreground of the picture. The unique Island of the Sky mesas, shrouded in blue mist, fill the the background.
If you've visited or are planning to visit the beautiful hoodoos, canyons, and mesas of Canyonlands National Park, then this Special Edition Walking Stick Medallion is the perfect companion. Grab it for a friend or relative who's visited, they'll love bragging to their friends!
Product Details
1 1/2'' x 1 1/4''
Includes nails for easy mounting
Reviews
Customer Reviews
This product has not yet been reviewed.