Dry Tortugas National Park Patch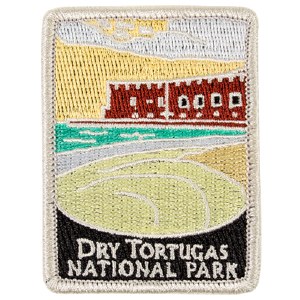 Dry Tortugas National Park Patch
Item#: 386423
$6.95
Description
Made up of seven islands (or ''keys''), Dry Tortugas is a wonder to behold. In addition to the pristine blue waters, impressive coral reef, and vibrant marine life, Dry Tortugas National Park is also home to the largest all-masonry fort in the United States. Located on Garden Key, Fort Jefferson is a Civil War-era fort that was never completed due to subsidience and other engineering challenges. Take yourself back to the warm sunshine of the Gulf Coast and the serenity of Dry Tortugas by commemorating your visit with a classically designed embroidered patch.
Featuring swirling sand dunes, turquoise water, and a glimpse of Ft. Jefferson, you'll want to add this to your personal collection of memorabilia. Simply iron on to any jacket, backpack, or other fabric surface, or choose to sew it on for extra durability.

Product Details

Approximately 2.25'' W x 3'' H
Park name embroidered at bottom of patch
Iron-on backing can also be sewn onto any fabric surface
Reviews
Customer Reviews
This product has not yet been reviewed.