Wind Cave National Park Patch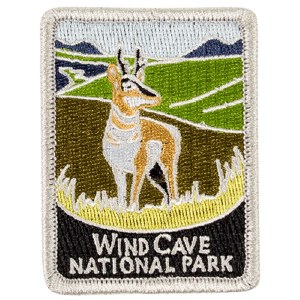 Wind Cave National Park Patch
Item#: 386443
$6.99
Description
Fifty five miles of honeycomb-walled caves lie beneath a beautifully intact prairie and pine forest in South Dakota, the intricate calcite boxwork within the caves undetectable to those who can't be bothered to look below the Earth's surface. The spirit of this American gem is captured on a classic patch featuring a lone pronghorn gazing out across the grasslands, unconcerned by the cavernous passages underhoof. Simply iron on to any jacket, backpack, or other fabric surface, or choose to sew it on for extra durability.
Product Details
Approximately 2.25'' W x 3'' H
Park name embroidered at bottom of patch
Iron-on backing can also be sewn onto any fabric surface
Reviews
Customer Reviews
This product has not yet been reviewed.