30 Minutes or Less Hiking Stick Medallion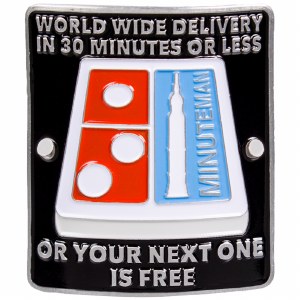 30 Minutes or Less Hiking Stick Medallion
Item#: 386798
$5.95
Description
''World wide delivery in 30 minutes or less...or your next one is free.''
Inspired by the blast door artwork at Minuteman Missile National Historic Site, this hiking stick medallion is a tongue-in-cheek reference to the sheer speed and accuracy of the minuteman missiles during the Cold War. These weapons were developed during the 5 decade struggle between the United States and the USSR, and ''hidden in plain sight'' throughout the Midwestern US. Give a sly nod to the only National Park Service unit that commemorates the history of the Cold War when you affix this medallion to your hiking stick.
Product Details
1.75'' x 1.5''
Gently curved design for easy installation
Includes two nails for mounting
Designed and finished in the USA
Reviews
Customer Reviews
This product has not yet been reviewed.