National Park Geek Pin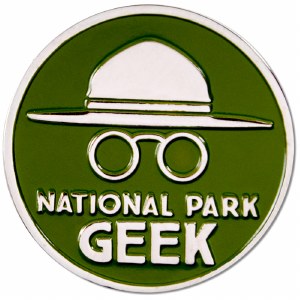 National Park Geek Pin
Item#: 421372
$6.95
Description
Geek out on National Parks with the folks at National Park Geek! This park loving organization donates proceeds from their products back to park charities. They are also a member of 1% For the Planet, a network of businesses and non-profits that pledge to donate 1% of proceeds to established environmental organizations.
You can go geek with this National Park Geek pin! This official logo is a reverent nod to park history, depicting Teddy Roosevelt's signature spectacles peering out from underneath the famous ranger hat. Pin this emblem of park pride on your favorite hat or backpack today!
Product Details:
1 1/8'' diameter
Rubber backing
Reviews
Customer Reviews
Average rating:
---
Love these!!
I purchased 5 of these cute pins; four as stocking stuffers for Christmas, and one of my own.
It would be helpful if ANP would give the size of the pins in the description (th pins are about the size of a quarter).
— Gretchen Williams
---
Cute!
Love this pin! Bought as a gift for a National Park enthusiast- perfect!
— Laurie Crago
---
Way cool!!
I work for Recreational Equipment, Inc (REI) and was a national park ranger for awhile. Had to have this pin to put on my work vest. (Only certain pins can be on our vests-national Park items are approved.) Only person with this pin. Very cool. It helps promote the parks and is a great conversation opener!!
— Kris Krystyniak
---
NP geek pin
Love the symbolism ! Great addition to my collection hat
— Karen Levy