National Park Geek Hiking Medallion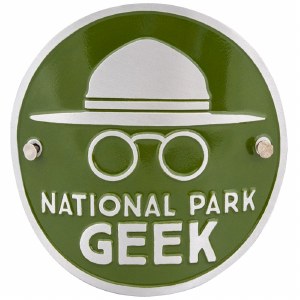 National Park Geek Hiking Medallion
Item#: 421374
$8.95
Description
It's always National Park Week if you're a National Park Geek!  From Angel's Landing to the Appalachian Trail, the folks at National Park Geek are spreading the gospel of national parks one adventure at a time on their popular social media channels. The Geeks give back by donating proceeds from their product line to park charities.
Embrace your inner geek with this National Park Geek hiking medallion. Inspired by the iconic park ranger flat hat and Teddy Roosevelt's owl-like spectacles, this hiking medallion is a great addition to your favorite hiking stick!
Product Details:
1 3/4'' diameter
Molds to fit
Hammer on to apply
Includes: Predrilled holes, set of nails
Reviews
Customer Reviews
Average rating:
---
1 of 1 people found this review useful:
Had to Have this One!
When is saw this, I just had to have it. It's LARGE. And it received a prominent spot at the very top of my hiking stick. I wish I would've notched the wood to embed it into the stick a bit, but nonetheless, this is a must have medallion for those with passport books visiting the National Parks!
— Staci Wood