Ellis Island Immigrants Luggage ID Tag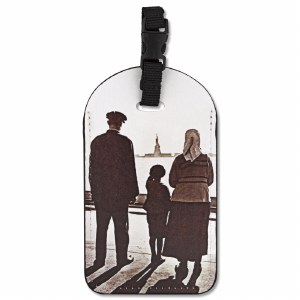 Ellis Island Immigrants Luggage ID Tag
Item#: 422912
$6.95
Description
Between 1892 and 1954 over 12 million immigrants passed through Ellis Island to become citizens and chase the American Dream. Today you can visit this place and learn about the stories and see the names of some of the people who came to America through Ellis Island. This luggage ID tag will offer privacy for your information and makes your bags easily identifiable featuring an image of immigrants staring down the symbol of freedom while entering Ellis Island. Get yours today to ease your mind while traveling and display the symbol of welcome at Ellis Island proudly.
Product Details
3'' x 5''
Buckle clip attached
Reviews
Customer Reviews
Average rating:
---
Impressive tags
You'll see this same review for a number of these tags - we ordered a variety. I expected something flimsy - instead, they are strong plastic, made to look and feel like leather. The images are crisp. The strap to attach them is easy to pull apart and reconnect. Very impressive - I hope they offer them for additional sites!
— Stuart Ritter