Assateague Island National Seashore Retro Magnet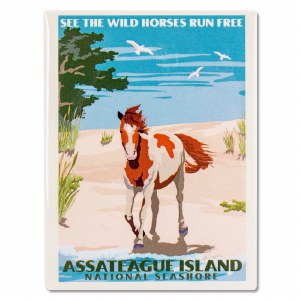 Assateague Island National Seashore Retro Magnet
Item#: 425133
$5.95
Description
Assateague Island's wild horses are an iconic part of the National Seashore and should be enjoyed from afar. Most of them measure under fourteen hands, which typically would categorize them as ponies, but they are considered horses as they descended from domesticated horse stock. Their stunted size is due to their diet of high salt marsh grass.
This retro magnet celebrates the wild nature of both the island and the horses, protected as a National Seashore since 1967. Enjoy it on your favorite shirt or accessory.
Product Details
Size: 2.5'' W x 3.125'' H
Collectible
Reviews
Customer Reviews
This product has not yet been reviewed.