Traveler Series Gateway Arch Pin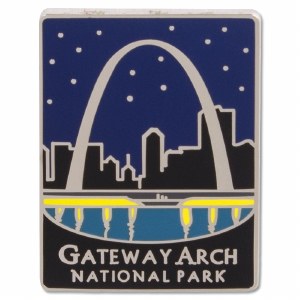 Traveler Series Gateway Arch Pin
Item#: 425346
$6.95
Description
Elevate your experience of the Gateway Arch with the Traveler Series pin. The tram ride to the top of the Arch provides a view of the surrounding landscape including a view of the courthouse that heard the cases of Dred Scott and Virginia Minor. The pin shows the Gateway Arch in front of the night sky, like a portal into the unknown territories during the Westward Expansion. Wear this pin on your hat or lapel as a reminder of where you've been and the potential adventures that lie ahead.
Product Details
Approx. 7/8'' x 1 1/8''
Rubber backer
Reviews
Customer Reviews
Average rating:
---
Great Product and Design - Good Quality
Made a US National Parks Quilt Wallhanging for my grandson for his birthday this year and wanted to purchase the pins for the parks he has visited already. Was trying to create a bucket list for him during his lifetime. I and he were very pleased with this pin. It is attached to his wallhanging now. I had forgotten to have it mailed directly to him and the company who was selling this was so good, when I sent emails and called to see if I could get the order changed right away. They did an excellent job and the pin will be part of his collection now. Thank you so much for great customer service and great products.
— Kathie Cross