Traveler Series USS Arizona Hiking Medallion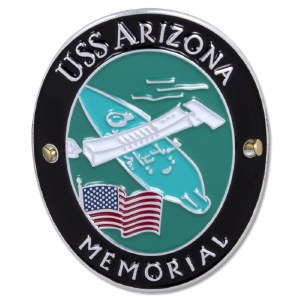 Traveler Series USS Arizona Hiking Medallion
Item#: 425353
$6.99
Description
Remember Pearl Harbor and the lives lost on the USS Arizona with the hiking medallion that depicts the submerged memorial site. On Dec. 7, 1941, the USS Arizona was attacked and over 2,400 lives were lost. Mount this hiking medallion high on your hiking stick or trekking pole as a sign of respect for our lost servicemen and let it serve as reminder of that fateful day.
Product Details
Approx. 1 1/4'' x 1 1/2''
Adhesive backing
tacking nails included
Reviews
Customer Reviews
Average rating:
---
Use Arizona medallion
I love the colors of this medallion. The memorial is amazing.
— Jennifer Hepworth
---
USS Arizona walking stick emblem
We visited Pearl Harbor in January. I didn't find see this one there. I ordered as soon as I saw it. Great addition to my collection
— Paul Robinson