Blanchard Springs T-Shirt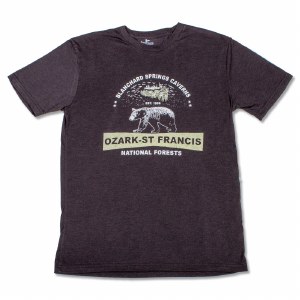 Blanchard Springs Caverns Tee - Charcoal
Item#: 428501
Description
Located in the beautiful Ozark-St. Francis National Forest, Blanchard Springs Caverns is a living limestone cave. That means the formations inside continue to grow as the mineral calcite is actively deposited by seeping and dripping water from the Blanchard Springs themselves. The cave remains at a constant 58 degrees (F) year round and water takes 24 hours to make it all the way through the cave, a journey of less than a mile. Grab your commemorative t-shirt of this truly awesome underground wonderland.

Product Details
Colors: Charcoal, Brown
Sizes: S, M, L, XL, XXL
Made in the USA

Reviews
Customer Reviews
This product has not yet been reviewed.