Traveler Series Capitol Reef Hiking Medallion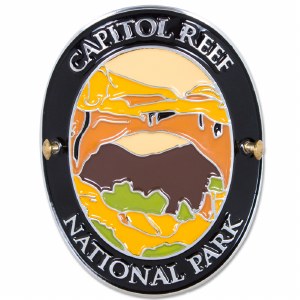 Traveler Series Capitol Reef Hiking Medallion
Item#: 430371
$6.99
Description
Treasure your time at Capitol Reef National Park? Collect the Traveler Series hiking medallion, which illustrates the unique arches and geological formations at Capitol Reef. Named after the white domes of the Navajo Sandstone, early settlers thought they looked like the rounded dome of the Capitol building and saw the Waterpocket Fold as a similar transportation barrier as the ocean reefs. Share the hiker's dream park when you add the Traveler Series hiking medallion to your collection.
Product Details
Approx. 1 1/8'' x 1 1/2''
Adhesive backing
Tacking nails included
Reviews
Customer Reviews
Average rating:
---
Capital Reef Hiking medallion
Vibrant color on this medallion, takes me back there whenever I look at it! I tack these to a 'memory' board, get a new one at every park I visit! This one goes next to pic of my husband standing under this arch!
— Lois Little