Traveler Series Kobuk Valley Hiking Medallion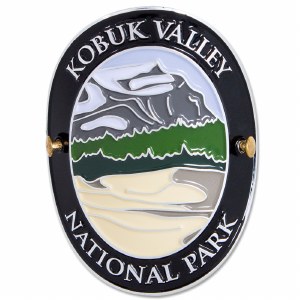 Traveler Series Kobuk Valley Hiking Medallion
Item#: 430385
$6.99
Description
Embrace the serenity of solitude at Kobuk Valley National Park with the Traveler Series hiking medallion. The Great Kobuk Sand Dunes featured on the hiking medallion, in front of the Baird Mountains, perfectly encapsulate the peaceful experience at Kobuk Valley National Park. As the glaciers of the last Ice Age began to retreat, the rocks beneath them were ground into fine sand, making a piece of the Arctic Circle look like 30 square miles of desert. Mount this medallion close to the top as a reminder of the gratifying experience that solitude can offer.
Product Details
Approx. 1 1/8'' x 1 1/2''
Adhesive backing
Tacking nails included
Reviews
Customer Reviews
This product has not yet been reviewed.