2019 Special Collector's Clear Rosewater Sprinkler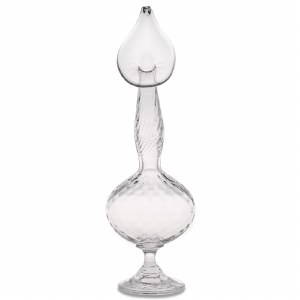 2019 Special Collector's Clear Rosewater Sprinkler
Item#: 91265
$92.95
Description
Rosewater has been used for centuries. Common uses included sprinkling rosewater to cool and refresh guests to your home, members of a wedding party, or soldiers returning from war. Glass sprinklers of the sort have been produced since the 10th century. The Jamestown Glass version features the typical long sweeping neck with an exaggerated floral top which was hand-blown in the Glasshouse of 1608. Get this one of a kind 2019 Special Collector's Rosewater Sprinkler from Jamestown Glasshouse.
Product Details
Approximate dimensions:

height: 13''
widest base: 4.25''
mouth: .5''

Not intended for use in ovens, microwaves, or with hot liquids
Hand-blown at Jamestown Glasshouse in Colonial National Historic Park

Reviews
Customer Reviews
This product has not yet been reviewed.