Grand Teton Trailblazer Sticker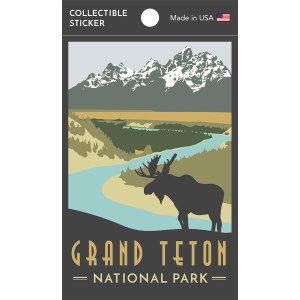 Grand Teton Trailblazer Sticker
Item#: 432093
$2.99
Description
Majestic mountain scenes have drawn visitors to Grand Teton National Park since it was established in 1929. This view from the Snake River Overlook was famously photographed by Ansel Adams in 1942, and remains a must-see today. His photo helped make the Teton one of the most instantly recognizable mountain ranges in the world!
Channel your inner Ansel with this Grand Teton Trailblazer Sticker! With Art Deco lettering and rich, colorful imagery, the Trailblazer series conjures the timeless allure of our national parks. Available exclusively on ShopANP, add it to your collection today.

Product Details
Graphic sticker dimensions: 3.75'' x 2.5''

Text sticker dimensions: 1.25'' x 2.5''
Reviews
Customer Reviews
This product has not yet been reviewed.