Channel Islands Trailblazer Sticker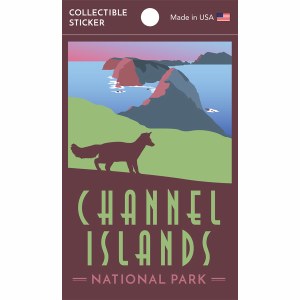 Channel Islands Trailblazer Sticker
Item#: 432665
$2.99
Description
Established in 1980, Channel Islands National Park, off the California coast, is a remote and unique national park experience. Available to humans only by boat, Channel Islands provides a vivid contrast to the nearby sprawl of Los Angeles. Sea caves, dolphins, rare birds, and island wildlife are among the park's spectacular resources.
Show off your favorite park with a Channel Islands Trailblazer Sticker! Art deco lettering and vintage style of the Trailblazer series, conjure the special beauty of the parks. Available exclusively on ShopANP, add it to your collection today!

Product Details
Graphic sticker dimensions: 3.75'' x 2.5''

Text sticker dimensions: 1.25'' x 2.5''
Reviews
Customer Reviews
This product has not yet been reviewed.