Gates of the Arctic Trailblazer Sticker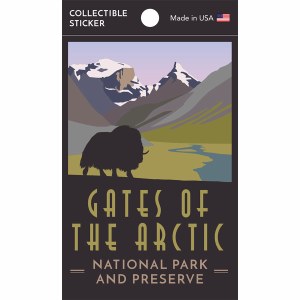 Gates of the Arctic Trailblazer Sticker
Item#: 432673
$2.99
Description
Established in 1980, Gates of the Arctic National Park & Preserve protects and maintains the wild character of some of Alaska's rugged tundra environment and its inhabitants. The Western Arctic Caribou ranges among the park's 8.4 million acres. It's one of the many wonders awaiting those who venture to this arctic park!
Go back to the ''gates'' again and again with this Gates of the Arctic Trailblazer Sticker. The colorful artwork depicts the other worldly beauty of this incredible park. Available exclusively on ShopANP, add it to your collection today!
Product Details
Graphic sticker dimensions: 3.75'' x 2.5''

Text sticker dimensions: 1.25'' x 2.5''
Reviews
Customer Reviews
This product has not yet been reviewed.