Congaree Trailblazer Sticker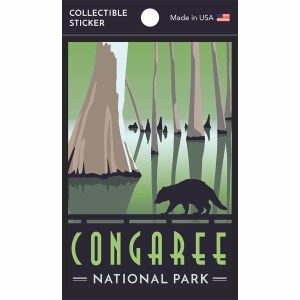 Congaree Trailblazer Sticker
Item#: 432666
$2.99
Description
A trip down the Congaree river will take you through one of the largest old growth forests in the Eastern U.S. Loblolly pine and bald cypress rise from the swampy floodplain to heights reaching over 150 feet. This wilderness oasis received its long-deserved designation in 2003 as Congaree National Park.
Capture your Congaree memories with a Trailblazer sticker. The Art Deco lettering and vintage artwork of the Trailblazer Series capture the timeless majesty of this amazing park. Available exclusively on ShopANP, add it to your collection today!
Product Details
Graphic sticker dimensions: 3.75'' x 2.5''

Text sticker dimensions: 1.25'' x 2.5''
Reviews
Customer Reviews
This product has not yet been reviewed.