Guadalupe Mountains Trailblazer Sticker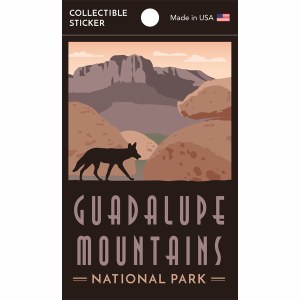 Guadalupe Mountains Trailblazer Sticker
Item#: 432674
$3.99
Description
Originally proposed in the 1920s, it was in 1972 that Guadalupe Mountains became a national park. In addition to preserving the stories of thousands of years of human history, the park is also home to one of the world's best geological examples of an ancient marine fossil reef!
Remember the magic of Guadalupe Mountains National Park with a Trailblazer sticker. Art Deco lettering and vintage style will transport you to the timeless beauty of this national park gem. Available exclusively on ShopANP, add it to your collection today!

Product Details
Graphic sticker dimensions: 3.75'' x 2.5''

Text sticker dimensions: 1.25'' x 2.5''
Reviews
Customer Reviews
This product has not yet been reviewed.