Cuyahoga Valley Trailblazer Sticker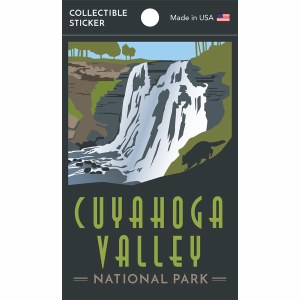 Cuyahoga Valley Trailblazer Sticker
Item#: 432668
$2.99
Description
From Brandywine Falls to the Towpath Trail, Cuyahoga Valley National Park provides a a rewarding outdoor park experience in Northeast Ohio. Over two million visitors per year enjoy recreational trails through historic areas, and beautiful forests. Cuyahoga Valley achieved its national park status in October of 2000.
Celebrate your love of the Cuyahoga with a national park Trailblazer sticker. Art Deco lettering and a vintage depiction of Brandywine Falls shows the timeless beauty of the Cuyahoga Valley. Available exclusively on ShopANP, add it to your collection today!

Product Details
Graphic sticker dimensions: 3.75'' x 2.5''

Text sticker dimensions: 1.25'' x 2.5''
Reviews
Customer Reviews
This product has not yet been reviewed.