Kings Canyon Trailblazer Sticker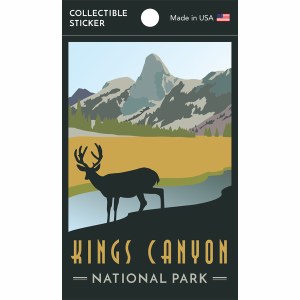 Kings Canyon Trailblazer Sticker
Item#: 432682
$2.99
Description
Place our exclusive to ShopANP Kings Canyon Trailblazer Sticker on your laptop or notebook! Kings Canyon National Park is home to 72 species of mammals, including the mule deer, which is featured on this stylized design of the park's scenery. Sequoia and Kings Canyon National Parks protect over 800,000 acres of land after President Lyndon B. Johnson signed the Wilderness Act in 1964.
Product Details
Graphic sticker dimensions: 3.75'' x 2.5''

Text sticker dimensions: 1.25'' x 2.5''
Reviews
Customer Reviews
This product has not yet been reviewed.