Saguaro Trailblazer Sticker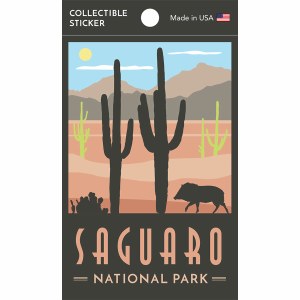 Saguaro Trailblazer Sticker
Item#: 432693
$2.99
Description
Show off the iconic giant cacti of Saguaro National Park with our Saguaro Trailblazer Sticker. The stylized image on the patch features these cacti, the saguaro, which can grow for 100 years before developing branches, or arms. Saguaros can live from 150-175 years, though some have been recorded at over 200 years old.
Product Details
Graphic sticker dimensions: 3.75'' x 2.5''

Text sticker dimensions: 1.25'' x 2.5''
Reviews
Customer Reviews
Average rating:
---
Good Quality
The stickers are high quality with good thickness and easy to get off the backing. I also really like the Trailblazer series artwork.
— Tim Schwamb