Smokey Bear Only You Patch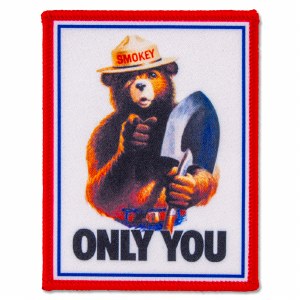 Smokey Bear Only You Patch
Item#: 436032
$5.95
Description
Everyone knows Smokey Bear and his famous phrase: Only you can prevent wildfires. Ever wonder why the ubiquitous ursine mascot is always depicted carrying a shovel? This is to encourage campers in national forests and parks to put out their campfires by shoveling dirt on them!
Show off your leave-no-trace ethos with this classic Smokey Bear patch. Reminiscent of the old Uncle Sam posters, this rendition of Smokey, bordered in red white and blue, is recruiting YOU to the cause of fire prevention. Put it on your bag or coat today!

Product Details
Size: 2 1/4'' x 3''
Collectible
Reviews
Customer Reviews
This product has not yet been reviewed.