Blue Ridge Parkway Passport Sticker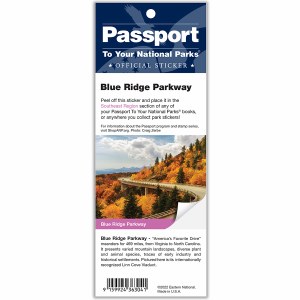 Blue Ridge Parkway Passport Sticker
Item#: 436304
$2.95
Description
Introducing the official Passport To Your National Parks® Single Sticker! Designed to fit inside any Passport book—or anywhere you collect park stickers—these official stickers feature stunning park photos, like the internationally recognized Linn Cove Viaduct pictured on the Blue Ridge Parkway Passport Sticker. Find Passport Singles from your favorite parks and collect memories of your park experiences. Click
here
to browse our current selection of Single Stickers and Stamp Sets.
Product Details
Sticker Measurement: 2.625'' x 2.25''
Sheet Measurement: 2.625'' x 7''

Reviews
Customer Reviews
Average rating:
---
Blue Ridge
The stickers are all so beautiful. When you look at them they take you back to the beautiful place you were at. They are all fantastic.
— Charlotte Brown