Jefferson Memorial Sun Catcher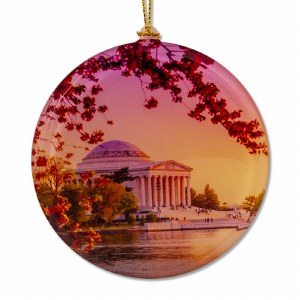 Jefferson Memorial Sun Catcher
Item#: 436430
$9.95
Description
Enjoy the cherry blossoms all year round with this beautiful depiction of the Jefferson Memorial as seen through the cherry trees. The Jefferson Memorial sits on the Tidal Basin, with a statue of Thomas Jefferson inside holding a copy of the Declaration of Independence. The Memorial was constructed between 1939–1943 and President Roosevelt had the trees trimmed so that a view of the memorial could be seen directly from the White House.
Product Details
3.5'' diameter
Made in the U.S.A.
Collectible

Made of acrylic plastic

Reviews
Customer Reviews
This product has not yet been reviewed.