Gettysburg National Military Park Sun Catcher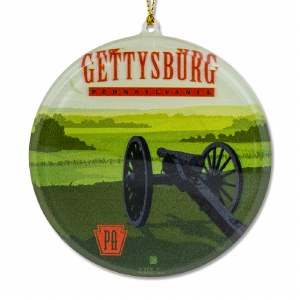 Gettysburg National Military Park Sun Catcher
Item#: 438252
$9.95
Description
Celebrate the turning point of the Civil War with this sun catcher of Gettysburg National Military Park. With the largest number of casualties of the entire war, the Battle of Gettysburg halted General Robert E. Lee's invasion of the North. It's estimated between 46,000 to 51,000 men died at Gettysburg over the three-day battle. This sun catcher features cannons on the field, a nod to the line the Union held against the Confederates.
Product Details
3.5'' diameter
Made in the U.S.A.
Collectible

Made of acrylic plastic

Reviews
Customer Reviews
This product has not yet been reviewed.