Passport Long Sleeve T-Shirt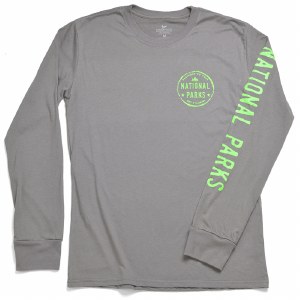 Passport Long Sleeve T-Shirt
Item#: 441251
Description
Passport To Your National Parks® official park cancellations are so much more than ink on a page! It's breathtaking scenery, it's the thrill of an outdoor adventure, it's the reverence of exploring historic spaces, it's the empowerment of discovering a new perspective on history...It's your national parks!
Celebrate the art of the park stamp with a Passport To Your National Parks® long sleeve tee! These comfortable shirts show a stylish interpretation of the classic cancellation design and are 100% made in the USA. Wear one the next time you ''Get Stamped'' at a national park!
Product Details
Made in USA
Available in Green and Charcoal
50% cotton, 50% polyester

Unisex

Reviews
Customer Reviews
This product has not yet been reviewed.